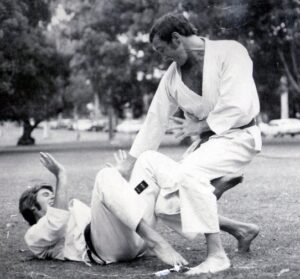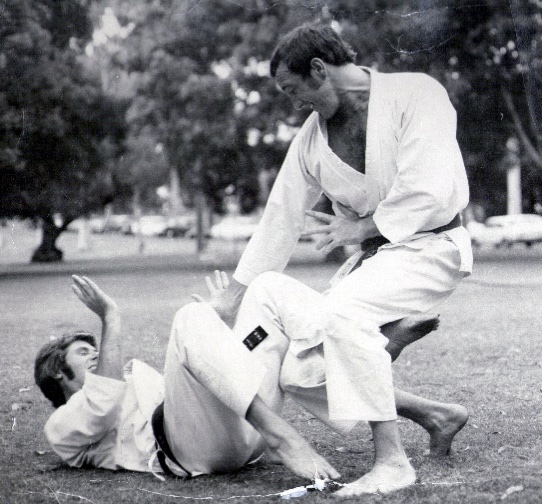 Born in Aberdeen Scotland January 1947 and comes from a family of 3, with 2 sisters.
Attended Aberdeen Grammar School in Scotland.
Studied Judo at the Aberdeen Judo Club winning Aberdeen Junior Championships in 1964.
Emigrated to Australia February 1965.
1965 travelled through New South Wales and Queensland.
School education: Just missed out on entry to university with one A level (needed two) and 7 O levels.
First job: Delivering milk in Aberdeen whilst waiting for travel to Australia.
Introduction to martial arts in Australia:
1966 Trained in Penjac Silat with Jan de Jong. 'Although I topped the both gradings I had in Penjac, it was not what I knew karate to be. Working as security first at the Playboy Club, I got to know and became friends with, members of the various bands in Perth Together with Murray Grieve (pictured right) from the Mark 4 band we tried to learn Karate from Oyama's karate books utilising the dance floor of the Top of the Town nightclub in Hay Street'.
'Later that year met Yasunobu Nagai Sensei who convinced me to purchase the Academy and train under him'.
Yasunobu Nagai was a 5th Dan black belt in Goju Ryu
'His history in Perth (arrived 1965 and departed 1968 Returned in 1969 left again in1970). After leaving Perth he went to Taiwan and little was heard of them since'.
'Laurie ( Laurie Potter – Had a chain of Health Clubs across Perth) sent Allan Marshall to meet Gogen Yamaguchi in Japan, who sent Nagai Sensei to Perth. His weight-training gym moved from Milligan Street to Hay Street. The karate Academy was established at that time in Milligan Street. Numbers were low and I had an agreement with Laurie to work for three months and build up the memberships. In return I would own 50% of the dojo. Although numbers improved Laurie was having additional problems with his health club and wanted to close the Academy. Together with Murray Grieve I purchased Laurie's interest and continued training with Nagai'.
Magazine Article Excerpt
Could you tell us, a little bit about HOW and WHY you decided to learn Goju-Ryu, and in particular the Yamaguchi Way?
I started judo when I was 12 in Aberdeen, Scotland. Although I only studied Judo as a junior, I find throws like harai-goshi (my favourite), and all the sweeping techniques useful in jiyu kumite. The first book I bought "Karate in Pictures" by H.D. Plee motivated me to learn karate. After immigrating to Australia and settling in Perth I enrolled at the 'Karate School of Perth.' Unfortunately, the Penjac Silat being taught there was very different to Japanese karate I had read about. As a result of this I left the club and planned to go to Japan as soon as I had sufficient finances. In I966, Yasunobu Nagai, a 5th Dan was sent by Hanshi Gogen Yamaguchi to open a Gojukai dojo in Perth. When the original owner's financial problems threatened its closure, Nagai sensei convinced me to purchase the dojo using the money I had saved for Japan. Nagai Sensei was a strong traditionalist, and I remember those early years not only for their physical demands but also for the high technical standard demanded by Nagai Sensei. After Nagai Sensei returned to Japan, I [Brian] became the principal instructor of the 'The Karate Academy of Japan'. Forty two years later the Academy is well established in Perth where students from the twelve affiliated suburban centres gather for squad training, seminars and gradings.
I was the first Australian to win a major international tournament when I won the heavy weight gold medal at the Asian Pacific Championships. On my retirement from competition, I was elected National Team Coach a position I held for over eight years. Now I am fully occupied with my position as director and chief instructor of the IKGA Australia and Oceania.
What were your impressions arriving in Japan, and was what the training like?
Nagai sensei always spoke of Gonnohyoe Yamamoto sensei so in 1971 on my first visit to Japan I contacted Yamamoto sensei. Unfortunately, he had left the Goju-Kai and started the IKO, International Karate Organisations. Training was held in the evenings in unoccupied offices. Yamamoto sensei took me one evening to meet Hanshi Gogen Yamaguchi at the karate college in Suginami. Needless to say I was very impressed with Hanshi and the college. In 1974 Saiko Shihan visited Perth with Tazaki Shihan and invited me to join the Goju-Kai. I always believed that as Nagai sensei was sent to Perth by Hanshi to open a hombu dojo, that we were always a branch of Goju-Kai. My mistake was in not contacting the Karate College on that first visit to Tokyo. Apart from that Yamamoto sensei was very good to me and I enjoyed training with him and former Goju-Kai members such as Yabe sensei and Toda sensei.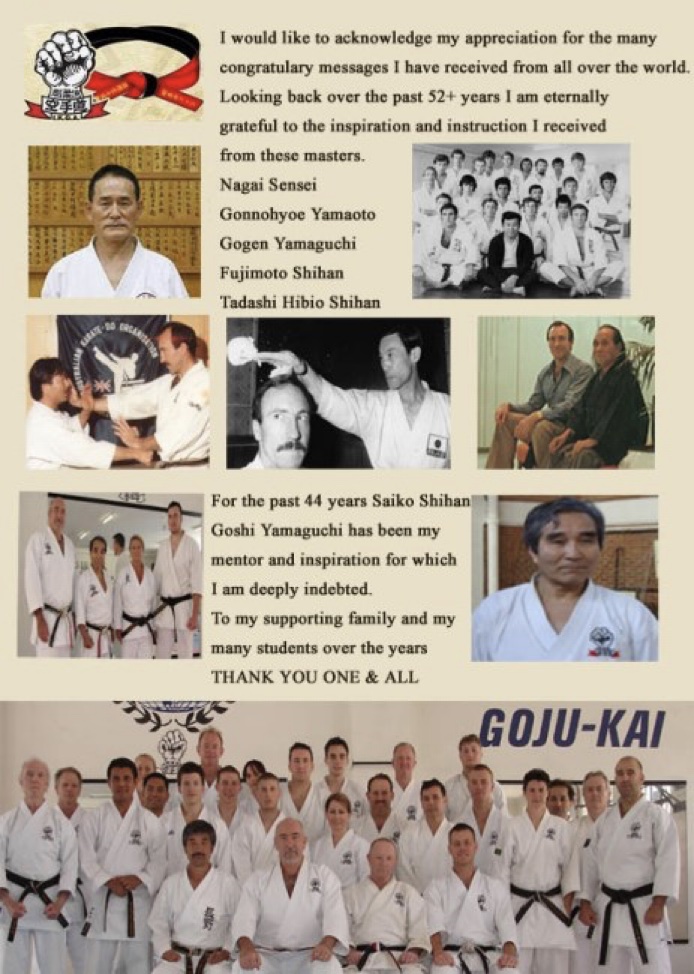 ---
Gail Mackie – Profile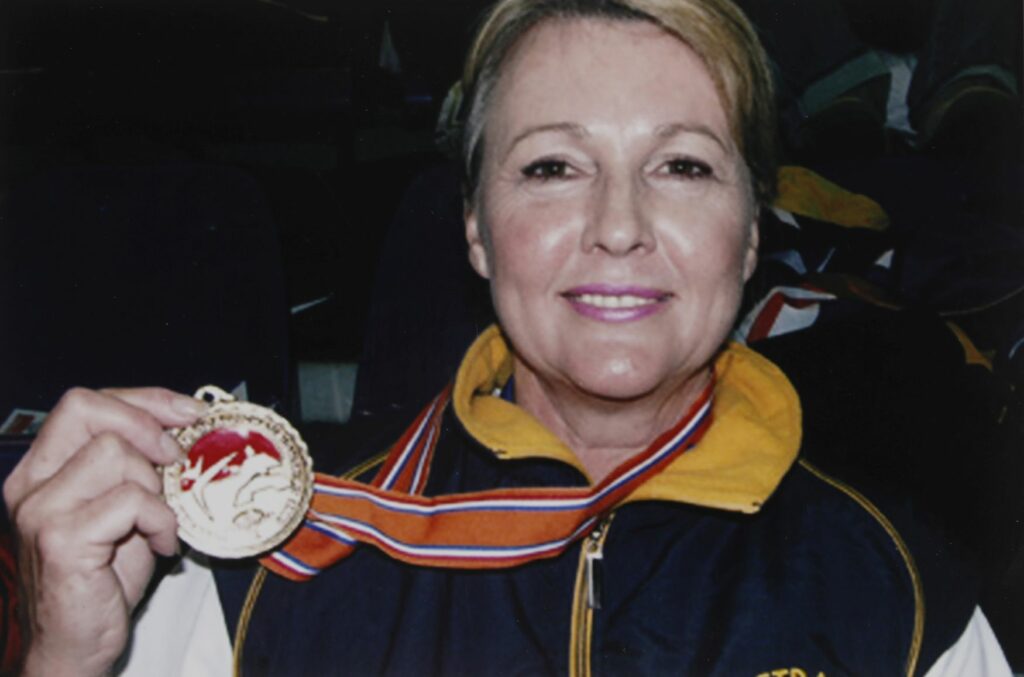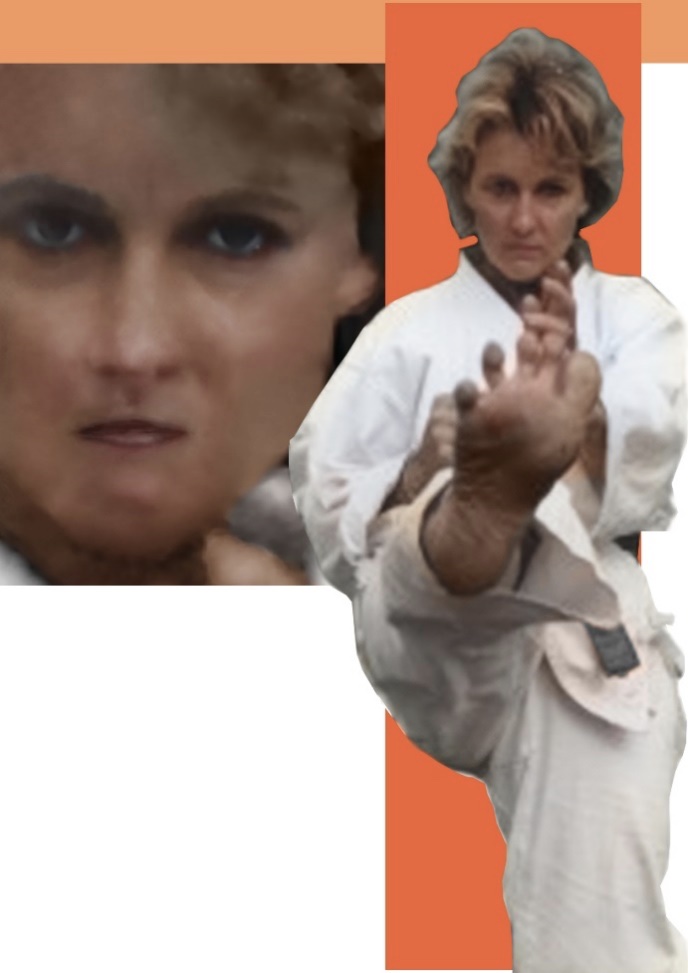 Gold medalist in the 2006 IKGA World Championships Veterans Kata in Holland, Silver Medalist in the 2007 IKGA Asian-Pacific in Hong Kong and 2011 IKGA Asian-Pacific in Thailand. The mother of Chantel and Benjamin, Gail represented Western Australia in Kumite in the 1984 AKF Nationals Championships.
Since then Gail has assisted Brian in teaching the many junior members of the Academy to achieve their personal best.
---
Chantel Mackie – Profile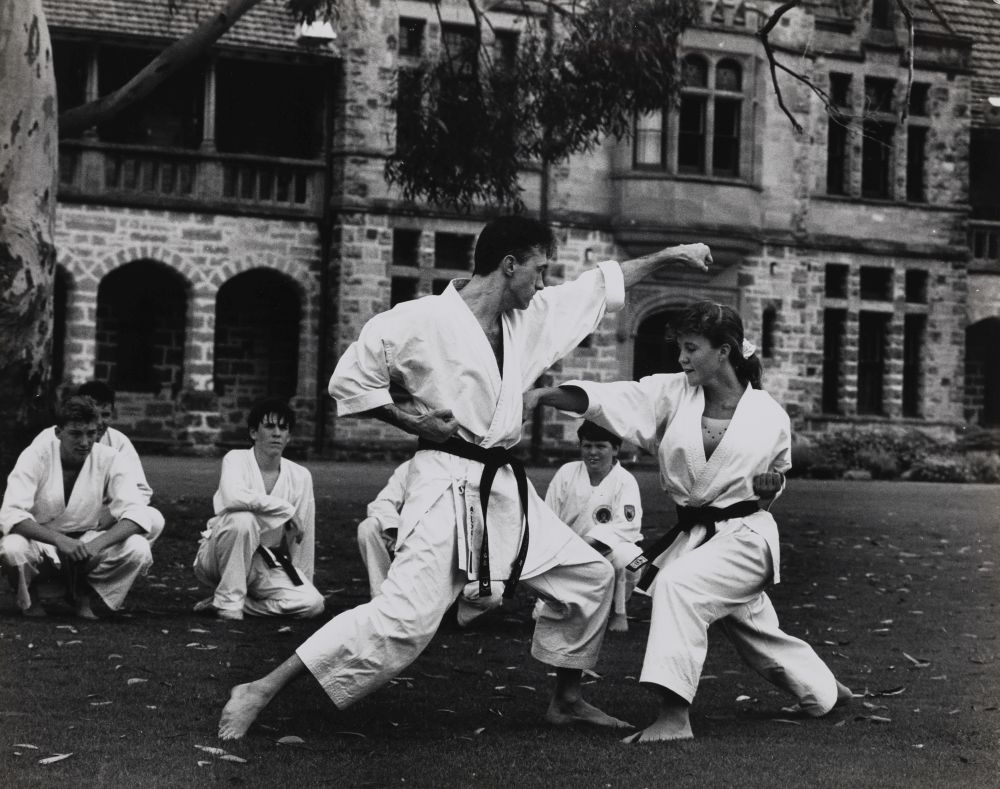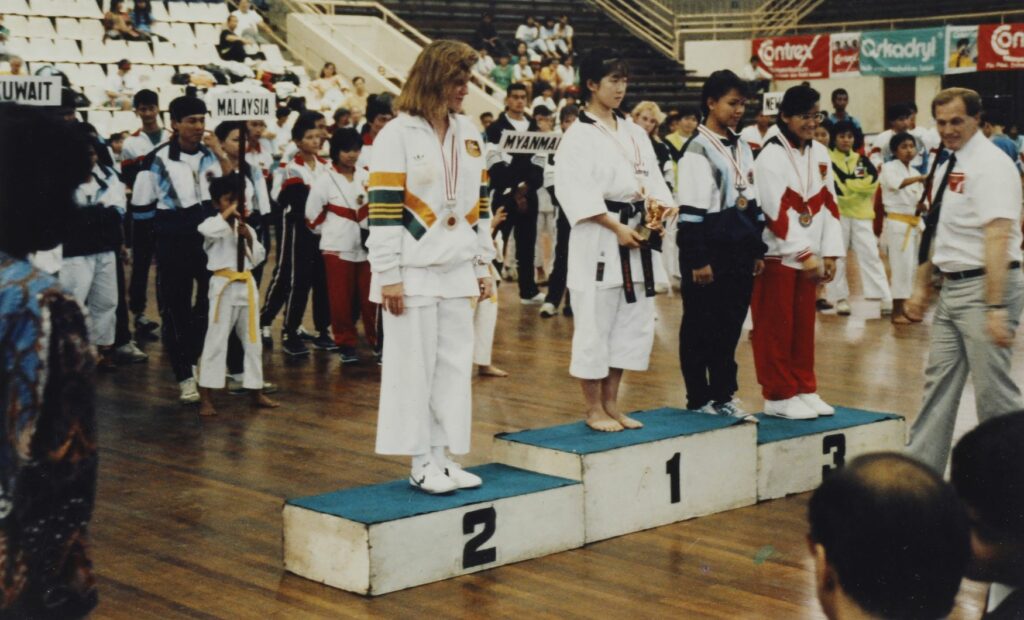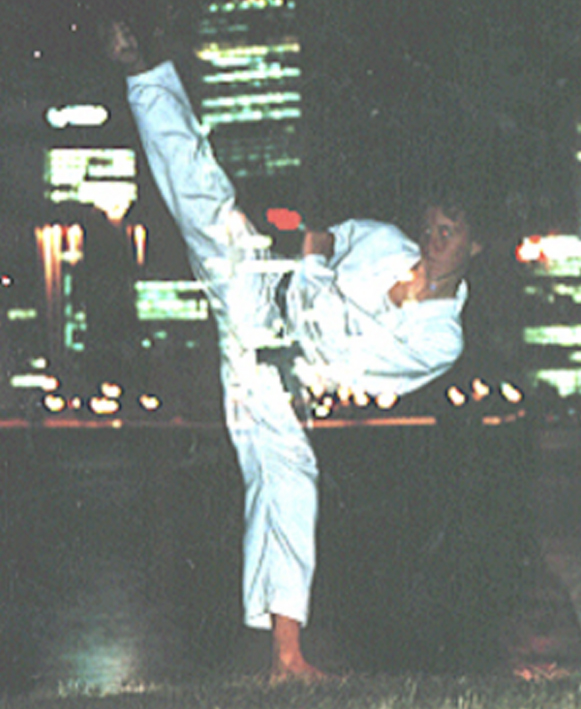 Multiple State and National Champion, Silver medalist in the Junior Asian-Pacific Championships in Jakarta. Chantel has been studying karate since the age of seven and has excelled in both Kata and Kumite. She has trained in Japan with Japanese National Junior Coach Murakami sensei at the Meguro High School.
---
Ben Mackie – Profile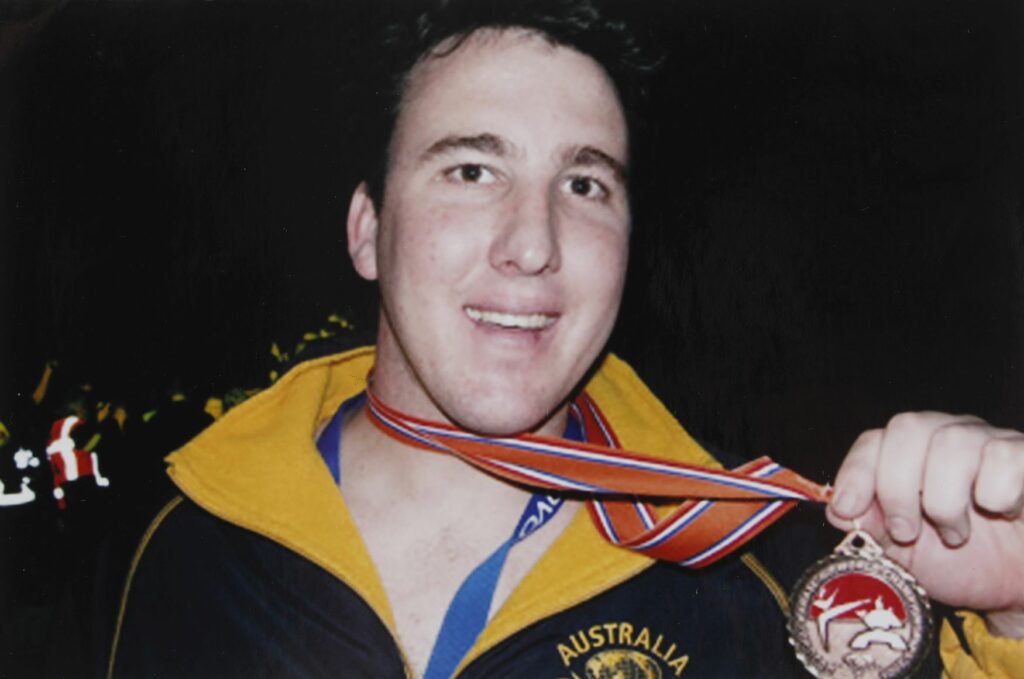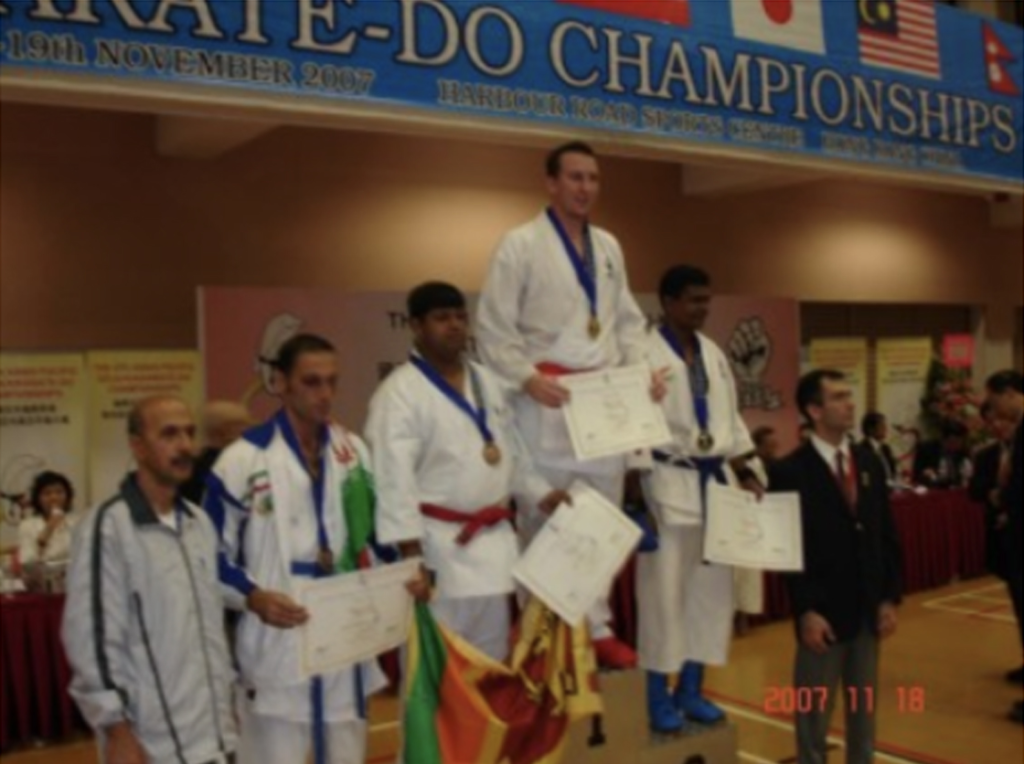 Gold Medalist 4th Asian Pacific Championships 2007, Bronze Team Kumite 2005 IKGA World Championships and Silver medalist 1993 IKGA World Championships. Although Ben participated and excelled in many different sports from an early age he kept up the practice of karate. At the age of fifteen Ben was selected to represent Australia in the first Junior World Cup held in Perth by the AKF. Ben has been practising karate since he was 5 years of age. In 2007, after competing in Hong Kong, Ben took the opportunity to travel to Japan and train with Saiko Shihan Goshi Yamaguchi